2021 PLEASURE WAY ascent TS
CLASS B DIESEL motor coach
Big Adventure - Small Package
Imagine the freedom that comes with owning your own motorhome! With a Pleasure-Way Ascent TS Class B diesel motorhome, you'll be able to travel the countryside whenever you choose. For a quick weekend getaway or a longer extended trip, you'll find the Ascent provides all that you need. Enjoy your next weekend getaway in one of the Pleasure Way Ascent TS Class B motorhomes for sale at North Trail RV Center.

You will love the clever use of space with the Ascent allowing you to bring along all the comforts from home. The galley has everything you need to prepare delicious meals while you're on the road, including a one burner induction cooktop and a microwave oven. The captain's seats are made with Mercedes-Benz leather and include four-way lumbar support and memory settings for a truly comfortable ride. The only thing left to do is choose which road you'll travel next in the Ascent TS Class B diesel motorhome from Pleasure-Way!

Incredible Features
The Ascent TS is a prime example of form following function as it strategically incorporates all our intuitive design and technology inside the most compact Sprinter model we build. The ingenious floor plan provides a generous living area, separate private bathroom, well-equipped galley with new pull-out pantry, and the most comfortable sofa bed found in a Class B motorhome. Whether it's rush hour traffic, a short haul to the grocery store, or an open road, the Ascent's short length makes any trip effortless. The Ascent TS is the total package.

Enjoy the energy-efficient, reliable, and easy-to-clean induction stove. Compared to gas stoves, induction produces less heat, boils water faster, and can be powered off the coach batteries. The Ascent TS received a galley upgrade with the 12V fridge and pull-out pantry. The fridge runs efficiently on battery power and cools consistently, while the pantry adds a versatile storage space. In addition, the Ascent TS received a Corian countertop upgrade, further elevating the already luxurious interior. This seamless and modern finish is also remarkably durable, non-porous, and stain-resistant. This model now feature a high-performance LP furnace.

Available Floor Plans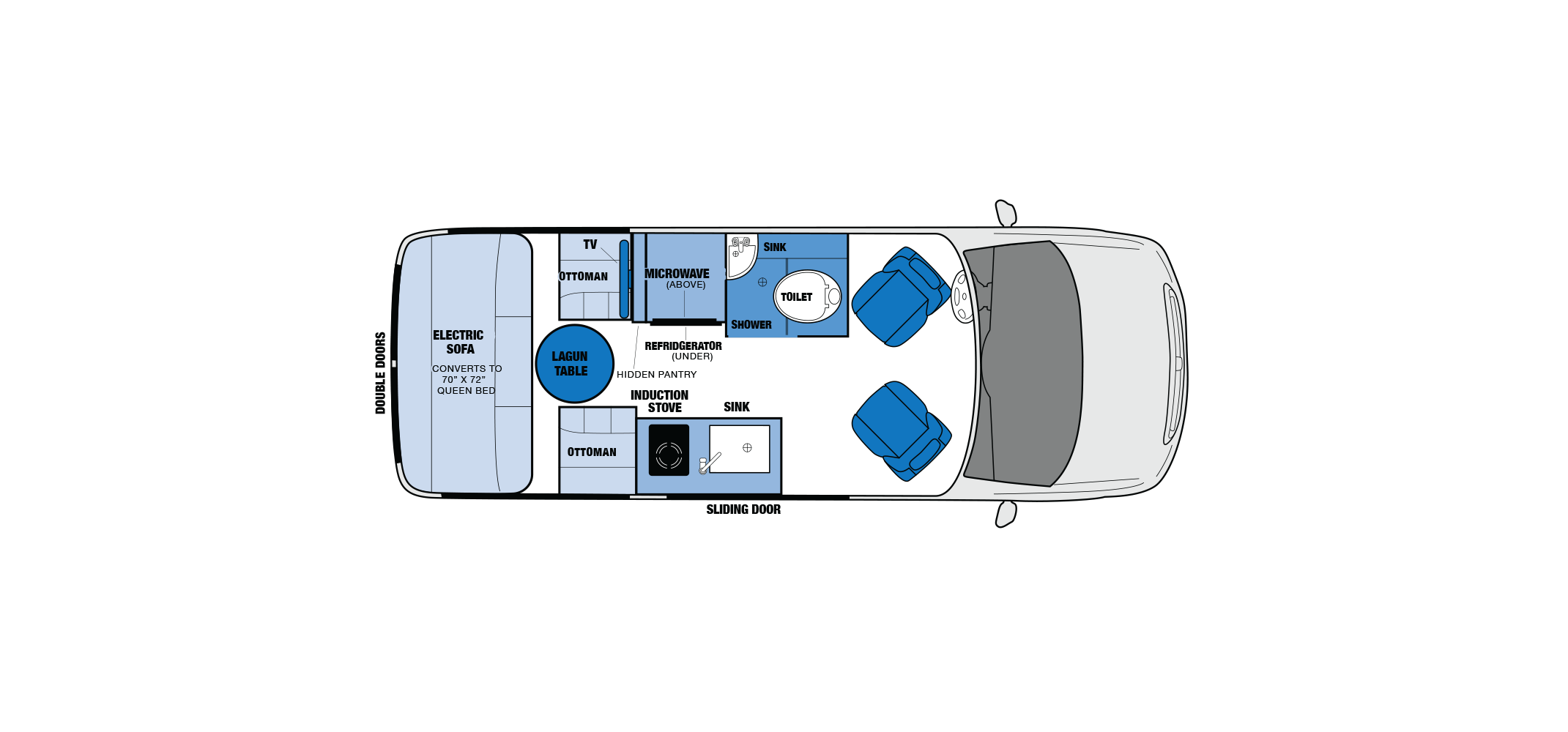 TS
Media Gallery
Browse our video and photo gallery to get a closer look at the 2021 Pleasure Way Ascent TS .
Click on an image to view THE full size version
Contact a North Trail RV Center PLEASURE WAY ASCENT specialist today for more information.
Pleasure Way Ascent Inventory in Fort Myers, Florida
2023 Pleasure-Way

Ascent TS
Stock: 15467
Condition: New
Status: RV for sale
Type: Class B
Fuel: Diesel
Floor Plan: TS
2023 Pleasure-Way

Ascent TS
Stock: 15469
Condition: New
Status: RV for sale
Type: Class B
Fuel: Diesel
Floor Plan: TS
2023 Pleasure-Way

Ascent TS
Stock: 19053
Condition: Used
Status: RV for sale
Type: Class B
Fuel: Diesel
Floor Plan: TS