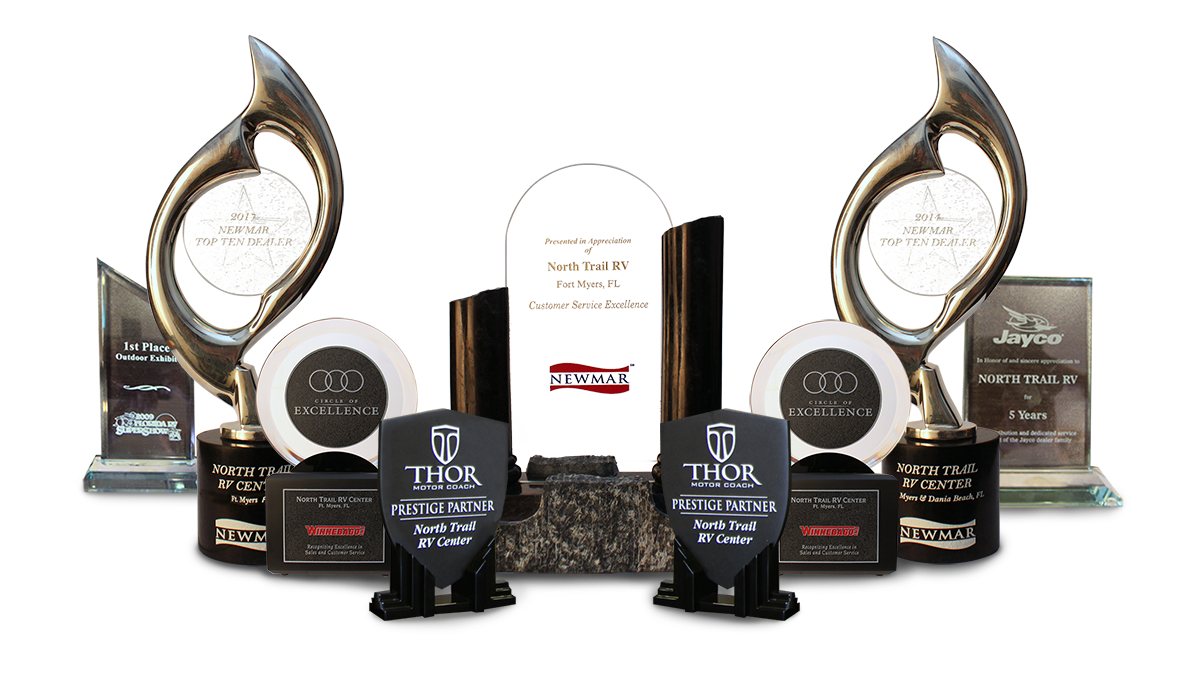 EVERY ACCOLADE IS A TESTAMENT TO OUR EMPLOYEES, PRODUCTS AND CULTURE
At North Trail RV Center, we have a great story to tell. We uphold our mission by working hard every day to bring value to our clients, our associates, and the community. Working with the highest standards, as well as providing excellent quality service and products, is just good business. When we are recognized for our work by esteemed organizations, it reconfirms the fact that we are doing the right things and continuing to be driven by our core values.
‍
North Trail RV Center has received numerous awards because of our dedication to customer service, ultimate customer satisfaction and recognition for top sales performances. We are one of the most successful RV dealers in Florida. We have been awarded with multiple sales and service awards but our most recent wins include the Newmar Customer Service Excellence Award, Newmar Transient Service Award, Airstream Five Rivet Dealer, Thor Prestige Partner, Winnebago Circle of Excellence and more. We are proud of our accomplishments and would like to show new and present customers alike a sense of who we are, where we come from and how we like to conduct business.
‍
North Trail RV Center is the only place you'll want to go to buy your new or used RV or to have your RV repaired or serviced. Year after year, North Trail RV Center has continued to build our reputation and our success by creating happy and satisfied RV owners. Visit us today to experience the North Trail RV Center difference!

Featured Industry Recognition
Mahlon Miller Service Excellence Award
In honor of Newmar founder Mahlon Miller, this top dealership award recognizes those dealerships that most embody the spirit of top-notch customer service.

Newmar's Transient Service Award
Bestowed on the top Newmar dealerships for outstanding service and warranty repair on brand new Newmar vehicles which were not purchased at the servicing dealership.